Recipe for Today: Quick Shortbread Cookies!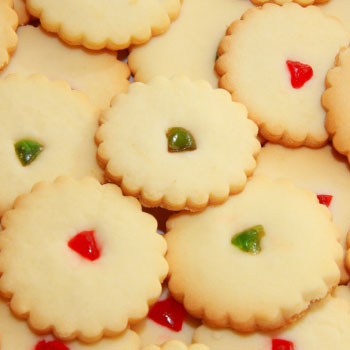 Ingredients:
1 cup butter, softened

1 1/2 cups all-purpose flour

1/2 cup icing sugar

1/4 cup red maraschino cherries

1/4 cup green maraschino cherries
Methods/steps:
Preheat oven to 350 degrees. In a mixing bowl and using an electric mixer, combine butter, flour and icing sugar and mix until mixture is a smooth consistency. Prepare cooking sheets with parchment paper. Spoon out dough onto parchment lined cookie sheets by teaspoonfuls, spacing about 2 inches apart. Cut maraschino cherries into quarters and place one piece in the middle of each cookie, alternating with red and green cherries. Bake in preheated 350 degrees oven for 15 to 17 minutes or until bottom of cookies are lightly browned, do not over bake. Remove from oven and let cool on cookie sheet for about 5 minutes. Transfer onto wire racks to finish cooling.
Additional Tips:
Ready in 35 min