Recipe for Today: Mediterranean Crab Salad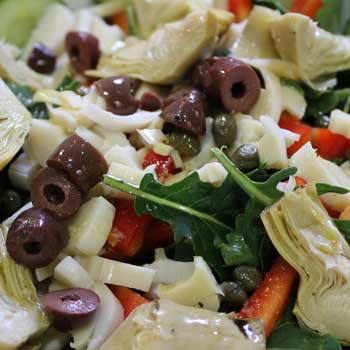 Ingredients:
1 lb. crabmeat

1/2 cup black olives, sliced

1 (7 oz.) jar roasted red peppers

6 cups mixed greens

1/2 cup goat cheese or feta cheese, crumbled and divided

2 oz. freshly squeezed lemon

juice

1 1/2 tsp. Dijon mustard

1/4 cup shallots or green onions, chopped

1/2 tsp. salt

1/2 tsp. pepper

1/4 tsp. oregano

2/3-cup extra

virgin

olive

oil

1 (6 oz.) jar of artichoke hearts, drained and quartered
Methods/steps:
Whisk together lemon juice, mustard, shallots or green onions, salt, pepper, and oregano in a large bowl.
Gradually whisk in oil.
Remove and reserve 1/3 cup dressing.
To the remaining dressing in large bowl, add crab-meat, artichokes, olives, and roasted peppers.
Place the greens and half of the goat cheese or feta cheese in a salad bowl.
Drizzle with reserved 1/3 cup dressing and mix lightly until leaves are evenly coated.

Additional Tips:

No Cooking Needed