Recipe of the Day: Italian Tortano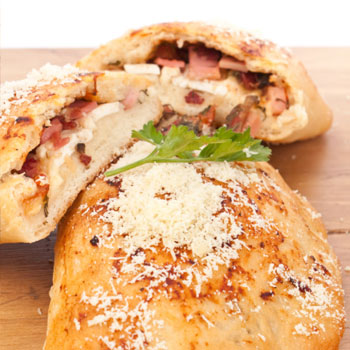 If you're familiar with stromboli, then you know this Italian pastry very well. What you likely didn't know was how simple it is to prepare your own. One bite and you'll want to stuff yourself with this scrumptious pizza place staple.
Ingredients:
5 loaves frozen bread dough, thawed
1 lb. hard salami
1 lb. ham
1 lb. pepperoni
1 lb. provolone cheese, sliced
1 lb. mozzarella cheese, sliced
1 lb. Muenster cheese, sliced
Hot peppers
1 egg white, lightly beaten
Methods/steps:
Divide each loaf of bread into 4 pieces. Roll out to about 1/8-inch thick. Alternate layers of meat and cheese and add peppers. Wrap bread dough around meat and cheese. Tuck ends under well (to prevent leaking of juices) and place on greased cookie sheets. Brush Tortano with egg white. Place in 350-degree oven for 20 minutes or until golden brown.
Additional Tips:
Ready in 50 min