Charlotte Russe now has Plus Size Clothing!
As many of you know, Charlotte Russe now sells plus sized clothing! This is a huge plus for me (pun intended) because I am a full figured woman and proud of it! Did you know that the average sized woman is a size 18? Yes a size 18! I'm average sized! But we all see that as plus sized.....I have always had a hard time looking for stuff for a wedding or a party so I tend to not go. It very hard to find things that are pretty. Because come on, we want clothes that will make us look beautiful, not 80 years old right? Well Charlotte Russe launched their plus size clothing line and they have the most cutest things and they are affordable! You know I love saving money so this definitely caught my eye. Nice clothes and affordable prices? Charlotte Russe you get an A+ from me! Check out the deal they have going on this week. Also today, April, 3rd through Sunday, April, 5th, they $5 flip flops just in time for spring. On Monday, April, 6th, Charlotte Russe will have a Buy More, Save More Sitewide: 20% off 1 item, 25% off 2 items, 30% off 3 items! This will be a big week for Charlotte Russe shoppers to save! Happy shopping everyone!
Free Shipping on Plus purchases at CharlotteRusse.com. Valid 4/2 to 4/8 at 3am EST. Shop Now!
Take a look at some of the stuff they have! I already ordered the Paisley tank top, the skin tight leggings, and the pom pom tropical print shorts!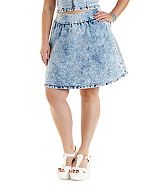 Plus Size Acid Wash Chambray Skater Skirt
The skater skirt is a definitive closet essential for every girl, but what about the ac...
[More]
Price: $24.99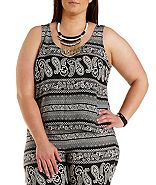 Plus Size Buttoned Back Paisley Tank Top
A dreamy swing silhouette gives this silky woven tank top a light and airy charm! Scoop...
[More]
Price: $22.99
Plus Size Paisley Print Palazzo Pants
Silky micro-satin fabric forms the prettiest, paisley-printed beach pants, with a high ...
[More]
Price: $27.99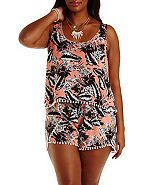 Plus Size Pom-Pom Trim Tropical Print Crop...
Crepe fabric is too cute in this trendy tropical print, forming a scoop neck tank top w...
[More]
Price: $22.99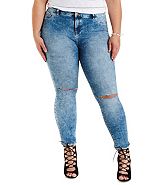 Plus Size Refuge "Skin Tight Legging" Jeans
The softest, medium wash denim in the skinniest fit, you'll love the Refuge Skin Ti...
[More]
Price: $35.99
Read disclosure policy here
)