Recipe for Today: Chicken Pockets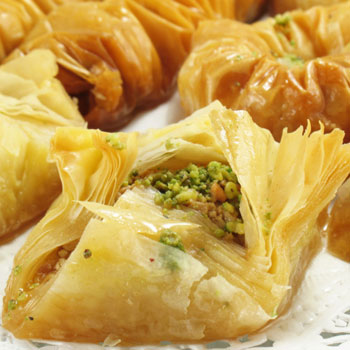 Ingredients:
3/4 cup green onion, chopped
3/4 cup mayonnaise
3 tbsp. lemon juice
3 cloves garlic, minced
3/4 tsp. dry tarragon
2/3 cup of butter, melted
12 sheets filo dough
6 chicken breast halves, boned and skinned
2 tbsp. Parmesan cheese, grated
Salt and pepper to taste
Methods/steps:
Thaw frozen filo dough in its pkg. for 8 hours in the refrigerator, and then let it stand for 2 hours before you use it. Once the filo dough has been opened and unrolled, place a slightly damp towel over it to prevent drying out. Mix together green onion, mayonnaise, lemon juice, 2 cloves of the
garlic
and tarragon and set aside. Combine remaining garlic with the butter. Place one sheet of the filo dough on a board and brush it with about 2 tsp. garlic butter. Arrange a second sheet on top and brush it with another 2 tsp. garlic butter. Lightly sprinkle a chicken piece with salt and pepper, spread one side with the mayonnaise mixture. Turn over one corner of the filo and top with more mayonnaise mixture (about 3 tbsp. in all). Roll the corner of the filo over the chicken. Fold side over top and roll again. Fold opposite corner over then roll up. Repeat for all chicken pieces. Place slightly apart in ungreased baking pan. Brush all packets with remaining garlic butter. Sprinkle with Parmesan cheese. Bake at 375 degrees for 20 – 25 minutes, or until golden. Serve hot.
Additional Tips:
Ready in 50 min