Recipe for Today: Low-Fat Beef & Vegetable Stew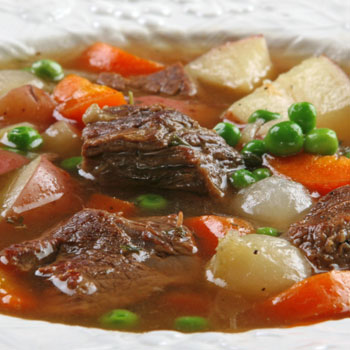 Ingredients:
1 1/2 lb. beef eye round
1 tbsp. vegetable oil
1 tsp. dried thyme leaves
1/2 tsp. salt
1/2 tsp. pepper
1 (13 3/4 oz.) can ready-to-serve beef broth
1/2 cup Burgundy wine
3 cloves garlic, crushed
5 1/2 cups baby carrots
1 cup frozen whole pearl onions
2 tbsp. cornstarch, dissolved in
2 tbsp. water
1 (8 oz.) pkg. frozen sugar snap peas
Methods/steps:
Trim fat from beef, cut into 1-inch pieces. In Dutch oven, heat oil on medium-high heat until hot. Add beef (half at a time) and brown evenly, stirring occasionally. Pour off drippings. Season with thyme,
salt
and
pepper
. Stir in broth, wine and garlic. Bring to boil; reduce heat to low. Cover tightly and simmer 1 1/2 hours. Add carrots and onions. Cover and continue cooking 35 to 40 minutes or until beef and vegetables are tender. Bring beef stew to a boil over medium-high heat. Add cornstarch mixture; cook and stir 1 minute. Stir in sugar snap peas. Reduce heat to medium and cook 3 to 4 minutes or until peas are heated through.
Additional Tips:
Ready in 2¾ hours