Recipe for Today: Homemade Chocolate Cheesecake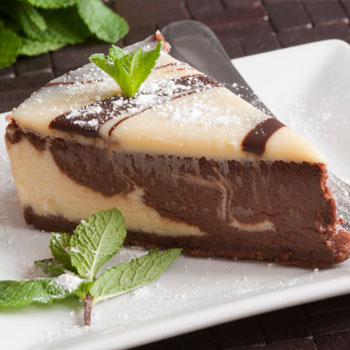 Ingredients:
Crust:
1 1/4 cups finely crushed chocolate graham cracker crumbs
4 tbsp. butter, melted
Filling:
10 oz. (2 1/2 baking bars) semisweet chocolate, broken into 1-inch pieces
24 oz. cream cheese, softened
1 cup firmly packed brown sugar
3 eggs
1 cup heavy whipping cream
2 tsp. pure vanilla extract
1/4 tsp. salt
Topping:
1/2 cup ready-made caramel topping
1/2 cup chopped pecans
2 oz. (1/2 baking bar) semisweet chocolate, coarsely chopped
Methods/steps:
For the crust:
Heat the oven to 350 degrees.
In a large bowl, combine crumbs and butter; mix well. Press crumbs evenly onto the bottom of an ungreased 9-inch springform pan. Bake for 8 minutes. Cool completely on a wire rack.
For the filling:
Melt chocolate in a double boiler over hot, but not boiling, water. Stir the chocolate occasionally until smooth. Remove from the heat. In a large bowl, beat cream cheese on low speed just until smooth. Gradually add brown sugar and continue beating until smooth. Scrape down the sides of the bowl and the beaters with a rubber spatula. Add eggs, one at a time, beating well after each addition and scraping down the bowl as needed. Beat in the melted chocolate until smooth and add whipping cream, vanilla extract and salt, beating just until smooth. Pour filling into crust and place the cake in the oven. Immediately lower the oven temperature to 325 degrees. Bake 1 hour to 1 hour 10 minutes, or until the center is just set.
Turn off the oven, and leave the cake inside for 30 minutes with the oven door closed. Transfer the cake to a wire rack. Using a metal spatula, loosen the cake from the sides of the pan.
For the topping:
Heat the oven to 350 degrees and place chopped pecans on a baking sheet and toast for 3 to 4 minutes, or until fragrant. Combine caramel topping, toasted pecans and chocolate. Spoon the mixture over the warm cake. After the cake has cooled completely, chill it for at least 8 hours or overnight. Store covered in the refrigerator.